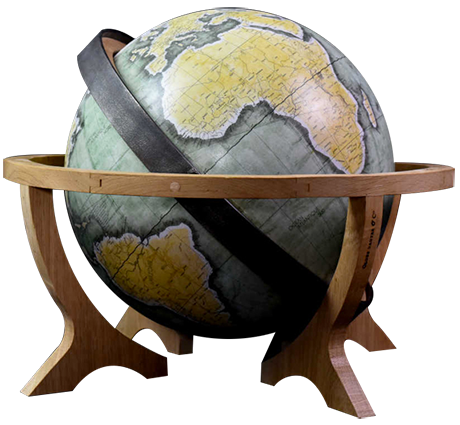 Dream, travel, discover
We are one of the last craftsmen in Europe to create world globes entirely by hand. Timeless. Poetic. Our globes amaze as they combine the rigour of this unique know-how and the sweetness of our childhood memories.
Each piece created in our workshop in Besançon is bespoke and therefore unique! We use traditional manufacturing techniques and high quality materials sourced in France to ensure that our globes stand the test of time.
"Our dream? That our globes are passed down from generation to generation!"
_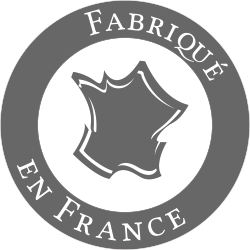 Crafting
From plaster to watercolour
Voir
Our universe
The Earthlings,
The Cosmos,
The Mythicals
Voir
Palettes
The colors
of our travels
Voir
Series
Offer yourself
Earth and Sky
Voir
Alain et Cécile
Four hands duet
While preparing a lecture for his students at the Paris Institute of Geography, Alain Sauter discovers that the artisanal globe making disappeared in France in the 1950s - 60s. His heart begins to beat faster. Geography. Travel. Craft. All his passions merged in one obsession: to create a globe himself!
But no archive or library have preserved these manufacturing secrets. Everything had to be reinvented. It took him over a year of research to meet the challenge. In 2016, Globe Sauter & Cie was born.
Three Earth's orbits around the Sun later, it was Cécile Blary's turn to reinvent herself. She swapped her graphic design tools for an apron and paintbrushes. Creative and passionate for arts & crafts, she threw herself with extraordinary endurance into learning this rare skill. Today, like an elf in Santa's workshop, she enjoys making your globes alive.
How to order your bespoke globe?
1) Explore the 'Series' page and choose the size and the base of your globe
2) Fall in love with one of the colors featured in our 'Palettes'
3) Imagine how you would like to customise your globe: add the name of your village on a map, the itinerary of your most beautiful trip, the sea monsters that remind you of your childhood, the quote that makes you smile...
4) Send us everything by email with your contact details so that we can talk about it together!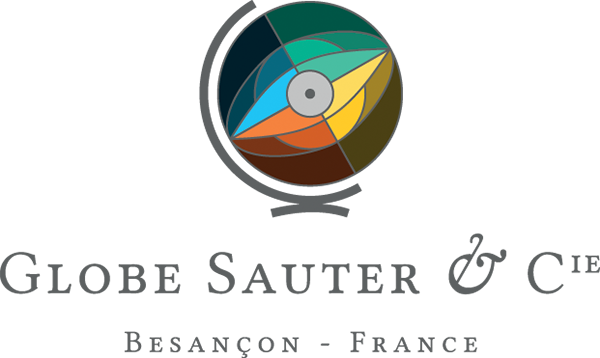 by appointment only
6 rue du Cercle - 25000 Besançon
Contact
/ 09 74 97 03 55
Photos
Globe Sauter & Cie
Gallery